The Grunwald Gallery and Black Film Center/Archive are pleased to present Rough and Unequal, a film by Kevin Jerome Everson. The film will be exhibited in the Grunwald Gallery as the centerpiece for a symposium featuring the filmmaker in conversation with IU faculty, staff, and students and Indianapolis Museum of Art at Newfields Associate Curator of American Art, Kelli Morgan.
The exhibit, organized by the Black Film Center/Archive and the Grunwald Gallery at Indiana University, opened on August 6 and will continue through October 4, 2019. The artist will be present on September 27–28th to participate in several public programs including a conversation with Black Film Center/Archive Director Terri Francis on Friday, September 27 at 5PM.
Rough and Unequal was first screened at the Fralin Museum of Art at University of Virginia, where Everson is on the faculty. Everson felt a need to reflect upon this place where he lives and works: The University. Lately, however, the space seems fraught and he chose instead to look inward by, in fact, looking outward and upward—the subject of this film is the moon. Filming from McCormick Observatory, Everson documented the waxing and waning of the moon. In many ways, this appears a fairly radical departure from earlier work, but one can see ties to, among other themes, the repeated subject of the cycle of labor that appears throughout his oeuvre.
While Everson's films frequently articulate the profundity in every-day life via a microcosmic approach that focuses on close-knit communities, the outlook of this new work is macroscopic. This installation of Rough and Unequal expands the Black Film Center/Archive's exploration of the reverberations between the genre of nonconformist filmmaking known as "the avant-garde" and the parallel insurgent cinemas of the African Diaspora. The screening of Rough and Unequal in an art gallery setting is consistent with previous screenings, providing a contemplative space for the 11-minute silent film. Yet, the presentation of the film in this setting, where the public will be able to revisit the film over a period of time, will provide a viewing experience very different than one that can be provided in the cinema. Placing Everson's film in an art gallery context draws attention to the visual aspects of the film and creates the connection to visual art.
Symposium
Rough & Unequal
by
Kevin Jerome Everson
Friday 9/27
Roundtable
Kevin Everson, Carmel Curtis, Anne Mahady, Terri Francis, Ross Gay, Kelli Morgan, and Joan Hawkins.
12PM
Grunwald Gallery
Public Conversation
Kevin Everson and Terri Francis
5PM
Fine Arts 015
followed by a reception
Saturday 9/28
Screening and Conversation
FORM AND PLACE: Two artists from different locations on the Allegheny Plateau, working in the disciplines of film and of poetry, talk about gesture, flight, and witness.
Kevin Everson and Ross Gay
9/28
2PM
Wells 048
Screening Program:
I
Polly Two is about ninety-nine percent totality. Filmed during 2017 eclipse across North America. (2018, 12:00, b/w, silent).
Music from the Edge of the Allegheny Plateau is loosely based on William Klein's1980 documentary, The Little Richard Story. The city of Mansfield, Ohio sits at the Allegheny Plateau and has an incredible range of musical talent. Commissioned by the Walker Art Center, Minneapolis. (2019, 7:00, color).
IFO is about three famous UFO sightings over Mansfield, Ohio. (2017, 9:50, b/w).
II
The Foothills of the Allegheny Plateau is where the city of Mansfield Ohio lies. (2019,1:24, b&w).
Mansfield Product Company is about receiving something new layered with something old. (2014, 2:15, b&w, silent).
Tygers is a glance at the fancy moves of the Mansfield Senior High football team in Mansfield, Ohio. (2014, 2:00, b&w, silent).
In A Good Fight a gentleman recalls the play-by-play of the 1978 boxing match between Sugar Ray Leonard and Art McKnight, local prizefighter from Mansfield, Ohio. (2017, 2 min, b&w, sound).
Three Quarters features two magicians in Philadelphia practicing their sleight of hand tricks. (2015, 4:37, 16mm transferred to digital, b&w, silent).
III
Cardinal is a film about bird-watchers looking for the state bird of Ohio. (2019, 16mm transferred to digital, 2:30, b&w).
During an Ears, Nose and Throat examination, Shadeena Brooks recounts a horrible event she eye-witnessed. (2016, 10:30, color)​. Cast: Shadeena Brooks, Dr. Heather Honeycutt, Dr. Eric Mansfield.
Get Free Tickets for the screening.
Featured Participants:
Carmel Curtis is a moving image archivist committed to increasing access to film and video by supporting viewing of diverse media to diverse audiences. Carmel currently works in the Moving Image Archive of Indiana University; is a board member of the non-profit Screen Slate, a daily resource for independent, repertory, and gallery screenings in New York City; and is a is a proud member of XFR Collective (pronounced transfer collective), a volunteer run group that works to increase community access to at-risk audiovisual media. Previously, Carmel has worked with a range of institutions and individuals including the Leslie-Lohman Museum of Gay and Lesbian Art, the United Nations, Brooklyn Academy of Music, Dirty Looks, Lincoln Center Archive, NYU, Planned Parenthood, Human Rights Watch, and Deluxe. She holds a masters in Moving Image Archiving and Preservation from NYU.
Kevin Jerome Everson (b. 1965) works in film, painting, sculpture, and photography. He is known for his filmic fables that articulate the profound within the ordinariness of everyday life. Everson, who was born in the working-class community of Mansfield, Ohio, depicts details in the lives of people living and working in similar American communities: a mechanic repairing an old car in a backyard, a black beauty queen in a segregated pageant, men boxing, snowplow operators in winter, young men walking into a courtroom, the aftermath of a murder.
Some of Everson's films are constructed from appropriated news and film footage, uncovering forgotten details of African- American life in the 1960s and 70s. In other films, the artist explores the waxing and waning of a community's sense of itself and the migration of black people from the South to the North in order to find work. Everson, whose work was included in the 2008 Whitney Biennial, approaches race, sexuality, and economic circumstances with a poetic yet unflinching eye. Adopting the stance of an observer, his interest in labor has both a political and a formal aspect, exploring the relationship between the human body and the materiality of the labor it performs as both an expression of class and identity, and as a performative gesture.
With a sense of place, drawing on historical research, Everson's films, which number 160, including 9 features, combine scripted and documentary moments with rich elements of formalism. The subject matter is the gestures or tasks caused by certain conditions in the lives of working class African Americans and other people of African descent. The conditions are usually physical, social-economic circumstances or the weather. Instead of standard realism he favors a strategy that abstracts everyday actions and statements into theatrical gestures, in which archival footage is re-edited or re-staged, real people perform fictional scenarios based on their own lives and historical observations intermesh with contemporary narratives. The films suggest the relentlessness of everyday life—along with its beauty—but also present oblique metaphors for art-making.
Everson received the 2019 Heinz Award in the Arts and Humanities one week ago. He has received fellowships from the Guggenheim, NEA, NEH, Ohio Arts Council, and the Virginia Museum of Fine Arts, an American Academy Rome Prize, grants from the Wexner Center for the Arts, Creative Capital and the Mid-Atlantic, residencies at Mobile Frames / Media City Film Festival (Windsor/Detroit), Hallwalls Contemporary Arts Center, Yaddo and MacDowell Colony, and numerous university fellowships.
Terri Francis teaches film studies courses through the Media School and directs the Black Film Center/Archive at Indiana University. An expert on Black film and critical race theory, her work involves archival research, cultural history and attention to form, as it's set within the vicissitudes of performance and representation. Francis is the author of Josephine Baker's Cinematic Prism, forthcoming from Indiana University Press. Her interviews and essays appear in Film Quarterly and Film History. She guest edited a close- up on Afrosurrealism in film and video for the 2013 fall issue of Black Camera. Film recommendation: Losing Ground, Kathleen Collins's 1982 film about a professor seeking ecstatic experience.
Ross Gay is the author of three books of poetry: Against Which; Bringing the Shovel Down; and Catalog of Unabashed Gratitude, winner of the 2015 National Book Critics Circle Award and the 2016 Kingsley Tufts Poetry Award. His collection of essays,The Book of Delights, was released by Algonquin Books in 2019. Ross is also the co-author, with Aimee Nezhukumatathil, of the chapbook "Lace and Pyrite: Letters from Two Gardens," in addition to being co-author, with Richard Wehrenberg, Jr., of the chapbook, "River." He is a founding editor, with Karissa Chen and Patrick Rosal, of the online sports magazine Some Call it Ballin', in addition to being an editor with the chapbook presses Q Avenue and Ledge Mule Press. Ross is a founding board member of the Bloomington Community Orchard, a non-profit, free-fruit-for-all food justice and joy project. He has received fellowships from Cave Canem, the Bread Loaf Writer's Conference, and the Guggenheim Foundation. Ross teaches at Indiana University.
Joan Hawkins's Ph.D is in Comparative Literature and she was a 19th century French and English lit student before she started working on Film. Feminist theory drew her to Film Studies; the Gothic drew her to Horror, and the rest is history. She wrote her dissertation with Carol Clover and have been working at the intersection of horror, European art cinema, and the avant-garde ever since. Her sub-discipline is generally known as taste politics and taste cultures, and it interrogates the way notions of taste (good and bad) are constructed. Her research interests are: Film Theory and History; taste politics; horror cinema; European art cinema; film subcultures; the avant-garde
Her teaching interests are Film Theory and History; taste politics; horror cinema; European art cinema; film subcultures; the avant-garde; experimental film, theater and performance art; gender politics and theory; panic culture; French cinema; women directors; Fascism and Psychoanalysis; genre theory; the body in cinema; the event; site-specific art; and sex.
Anne Mahady is a PhD candidate in the Department of African American and African Diaspora Studies at Indiana University. In her research, she examines questions of the role of the folk within 20th-century discourses on American national identity and racial representation. Her dissertation, entitled Envisioning the American Folk in the Art of Palmer C. Hayden, investigates the ways in which African American modernist Palmer Hayden addressed, replied to and re-framed discourses about African American folklife in his mid-career works. Philosophically aligned with the New Negro project of racial reinvention yet skeptical of uplift imagery, Hayden offered an alternate vision of racial self-hood and citizenship through images of the lives, stories and experiences of "the low-down folk". Her research interests include: 20th-century African American art, folklore and laborlore, American visual culture and curatorial ethics.
Kelli Morgan is Associate Curator of American Art for the Indianapolis Museum of Art at Newfields. In this role, Morgan manages and refines the IMA's significant collection of American Art and provide curatorial oversight for future exhibitions. The IMA's collection of American paintings and sculptures include some of the most iconic and beloved works such as LOVE, Robert Indiana's original sculpture made of cor-ten steel, Gamin by Augusta Savage and Jimson Weed by Georgia O'Keeffe. Originally from Detroit, MI., Dr. Morgan earned her doctorate in Afro-American Studies and a Graduate Certificate in Public History – Museum Studies in 2017 from the University of Massachusetts Amherst. As a scholar and curator, Morgan has worked in a variety of curatorial, programming, teaching and research positions at various institutions, including The Tyler School of Art at Temple University, Wayne State University, the University of Michigan, the Birmingham Museum of Art and the Pennsylvania Academy of the Fine Arts (PAFA). In early 2014, Morgan was awarded a dissertation fellowship by the prestigious Ford Foundation. She was also named the Curatorial Fellow of African American Art at the Birmingham Museum of Art (2014 – 2015) and in 2016 became the inaugural recipient of The Winston & Carolyn Lowe Curatorial Fellowship for Diversity in the Fine Arts at PAFA.
As a critical race cultural historian, Morgan specializes in American art and visual culture. Her interdisciplinary research concentrates primarily on historic African-American women artists, however her curatorial work often examines, critiques and theorizes the ways in which American artists, art objects, art history and art institutions both challenge and support the systematic mechanisms of anti-Black violence and oppression in the United States. By analyzing the ways in which Americans construct visual discourses, conceptualize images and sometimes resist these discourses, Morgan's curatorial and teaching practices link art history, women's studies, African American history and museum studies to create stimulating and culturally sensitive educational opportunities for students and public audiences alike.
Rough and Unequal Symposium Schedule
All events are free and open to the public.
Friday, September 27
12–2pm: Lunch roundtable discussion led by Kevin Everson with participation by Kelli Morgan, Terri Francis, Anne Mahady, Ross Gay, Carmel Curtis, and Joan Hawkins. Located in the Grunwald Gallery.
5–6pm: Public conversation: Kevin Everson and Terri Francis. Located in Fine Arts 015.
6–7:30pm: Opening reception. Located in the Grunwald Gallery.
Saturday, September 28
2–4pm: Screening of Kevin Everson films followed by conversation with Ross Gay. Located in the IU Libraries Moving Image Archives, Wells Library.
Get Tickets HERE.
The Rough & Unequal exhibition and symposium are made possible by New Frontiers in the Arts and Humanities and the College Arts and Humanities Institute at Indiana University. Special thanks to Madeleine Molyneaux of Picture Palace Pictures and Ian Burnley. Appreciating early support of our Everson research from The Ruth Lilly Professorship of the English Department thanks to Ross. The series continues the BFC/A's reflection on the 1969 moon landing and black cinematic imaginations of outer space begun in Black Sun/White Moon.
BFC/A Events This Past Semester
Running the Screen: Directed by Women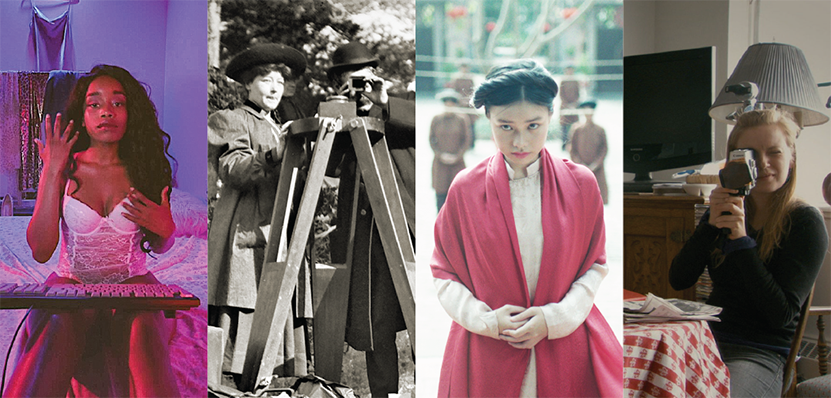 IU Cinema's wonderful Running the Screen: Directed by Women celebration continues this week. IU Cinema has dedicated its entire September 2019 programming line-up to films directed by women in celebration of September as Woman Director Awareness Month. Additionally, 2019 commemorates the fifth annual #DirectedbyWomen Worldwide Film Viewing Party, an initiative celebrating the creative work of women filmmakers, which was founded in 2015 by Barbara Ann O'Leary, IU Cinema's founding social media specialist and blog editor.
Curated and programmed by Brittany D. Friesner and Jon Vickers, with support from IU's Women's Philanthropy Leadership Council; Jorgensen Guest Filmmaker Series; Black Film Center/Archive; Eskenazi School of Art, Architecture + Design; College of Arts and Sciences' Themester 2019: Remembering and Forgetting; Union Board Films; the Turkish Flagship Program; and the Hard Truth Hills Movies by Moonlight Film Festival.
Contact: Black Film Center/Archive, 1320 E. 10th Street Wells 044, Bloomington, IN, 47405 || bfca@indiana.edu